Blog
4 Examples When the Investment Casting (Lost Wax) Process Solved A Customer's Problem
Think of a problem that you face in metal component design or application. MetalTek helps companies just like you solve problems every day. Here are just a few examples of when the investment casting (lost wax) process helped solve a problem, made a customer's product better, or saved money. For questions regarding any of your metal applications, please Contact Us.
Converting to Castings Helped Achieve Cost Reduction Goals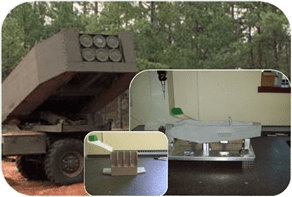 The drive to reduce costs is a relentless effort for nearly all manufacturers. In the case of purchased components, the determination of comparative cost is relatively simple. Comparing the cost of alternative methods of manufacture for a component or set of components is more difficult. But the replacement of multi-piece weldments or highly machined hogouts by single piece castings has been proven time and again to be one of the most effective ways to reduce real product cost. A major U.S. defense contractor enlisted MetalTek's assistance for a technical and manufacturing review of key components to target ones most likely to contribute to their cost reduction goals. A number met the customer's cost and quality criteria and have subsequently been tooled and converted to production castings, with an average all-in cost reduction of more than 15%.
Waterjet Propulsion for the Expeditionary Fighting Vehicle (EFV)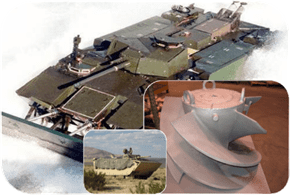 The next generation amphibious vehicle capable of delivering mission-critical Marines and cargo is the EFV, or Expeditionary Fighting Vehicle. The EFV can reach speeds of 25 knots on the water and 45mph (72km/h) on land. A pair of advanced waterjets are utilized to power the 40-ton craft at those speeds on the seas. This waterjet application demanded the precision of investment castings and the use of highly corrosion-resistant materials. Few foundries can provide investment cast parts of that size, and delivery of those were the result of intensive concurrent engineering efforts between the vendor and MetalTek's Investcast Division. Technical and program management teams working closely together brought out a product that works, on time, meeting technical requirements – a fine example of what partnering can accomplish.
Fabrication to Investment Casting in Meat Grinding Application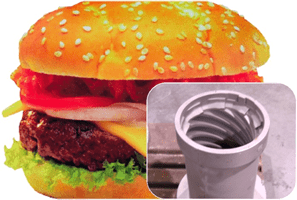 Fabrications require extensive blacksmithing, welding, and polishing manpower to produce a part that meets stringent USDA surface finish and specified design requirements. Even when those requirements can be achieved in a fabrication, the end product can often vary lot-to-lot, making interchangeability and consistent performance an issue. MetalTek's Wisconsin Investcast Division successfully converted a complicated fabrication into a single large investment casting. This 280 lb./127kg stainless steel casting features nine spiraling flutes that contour along its entire length and contains as-cast surfaces that satisfy USDA requirements. As a result, the customer has enjoyed the benefits of significant labor savings, manufacturing capacity, consistency of production parts, and increased process throughout.
Versatile Tooling Reduced Tooling Costs for Flow Meter Production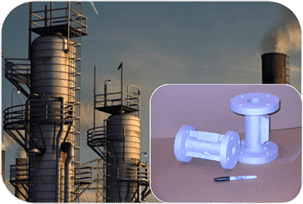 Vortex flow meters provide an effective, often more effective, alternative to turbine flow meters in steam, oil, and gas applications. While very reliable, the proper placing of internal mechanisms is essential for the accurate measuring of fluids through the meter. There can also be a variety of sizes and bolt patterns of mating parts which attach to meter bodies. MetalTek's Wisconsin Investcast Division brings a unique ability to integrally cast internal shutter components. MetalTek has also devised a common tooling scheme that allows a broad range of flange sizes and bolt hole patterns to be produced from a single tool. These capabilities help produce parts that perform in the field, add versatility, and minimize tooling investment.
---
Here at MetalTek International, we like to go above and beyond so we are throwing in two bonus examples for defense applications! MetalTek is making a lasting difference by keeping our troops safe with quality products.
Nadcap-Certified Processes Essential for Defense Jobs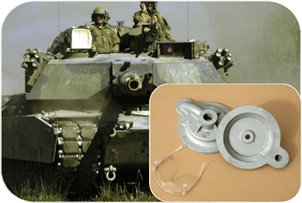 Near-theater upgrades to engines powering the Army's Abrams M1A1 tank save time, cost, and ensure that essential equipment continues to perform. The "TIGER" engine repair program uses combustor covers and bearing carriers produced by MetalTek's Wisconsin Investcast Division. The customer requires that suppliers for this program be Nadcap certified to help ensure that processes used to manufacture these mission-critical components meet the rigorous standards of aerospace defense markets. The Wisconsin Investcast investment casting facility holds Nadcap special process certifications in Welding and Non-Destructive Testing. Years of experience with leading prime defense contractors, a long history of producing investment castings to demanding military standards—and Nadcap certified processes— make Investcast a clear choice.
Military Applications Demand High Reliability to Keep Troops Safe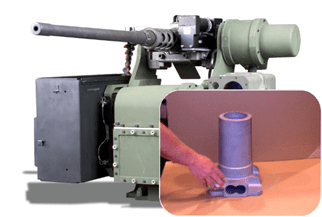 Precision, reliability, and survivability are critical in aspects of products provided to protect our troops in life-threatening environments. New generations of weaponry rely on electronics, and also on hard parts that help deliver the same precision and reliability that battlefield conditions demand. Investment castings contribute to that precision and reliability. MetalTek's Wisconsin Investcast Division is renowned as a provider of large investment castings for military applications. This stainless turret base ships at 55 lbs./25kg, well under our maximum capacity of 850 lbs./385kg ship weight. End products using investment castings from MetalTek help ensure that our troops are the safest and best-armed in the world.
Download Our Where Used Guide
When considering the production of complex metal components, it is important to evaluate the costs associated with different...
Are you experiencing supply chain issues with your current metal manufacturing vendors? In today's marketplace, long lead times,...
Investment casting (also known as lost-wax casting) is a common manufacturing process used to create metal parts with...