Blog
Centrifugal Casting Process: Featured Solution Examples
Think of a problem that you face in metal component design or application. Here are some examples of where leveraging the advantages of centrifugal casting have helped MetalTek and a customer work together to solve an application challenge. Maybe you will see a problem you are working to resolve. For more information regarding any of your metal applications, please Contact Us.
Centrifugal Casting Prevents Deforming in Mandrels
Many composite and sheet metal structures are hot-formed around tooling that is typically a welded fabricated structure. Because of heat in the production process, tools are prone to deformation especially if large components are being produced. This distortion results in tolerance and roundness issues in the finished part. The use of alloys that resist thermal expansion and the homogeneous nature of centrifugals used in this application eliminates roundness concerns and provide a high quality finished part. Lab testing as well as field performance indicates that a centrifugal casting used in tooling applications can provide up to five times the tool life of a traditional fabricated assembly.
Centrifugal Casting for Homogeneous and Balanced parts
Centrifuges are used to remove liquid from products to make concentrates. To make production equipment more portable, a customer designed a system using a conical conveyor with a machined spiral pattern. Attempts to use sand castings were not effective because the spinning centrifuge sand cast parts were impossible to balance.  As an alternative method of casting, MetalTek supplied centrifugal castings as prototypes.  Those parts worked in the spinning environment because the material in a centrifugal casting is more homogeneous, balanced, and evenly distributed.  In addition, MetalTek engineers devised a process to cast the required spiral pattern directly into the casting of the conical conveyer.  This reduced machining and imbalance in this sensitive food processing application.
Centrifugal Casting for Sound and Consistent Briquetting Rolls
Briquetting, where raw materials are pressed between matched rotating rolls with machined pockets to create the desired product shape, is common in many high-volume industrial, food, and pharmaceutical applications. While the specifications for wear, corrosion, or thermal properties may vary from application to application, the soundness and consistency of rolls produced using the centrifugal process is always demanded.  MetalTek metallurgists help customers select alloys with the correct thermal conductivity properties to process materials at the desired temperature.  Heavy walled roll construction lets customers process dense materials.  MetalTek's experience casting CDA 815 chrome copper for food applications, for example, gives the customer a material that is readily machinable to ensure consistent product dimensions and long roll life.
Centrifugal Casting for Superior Performing Centrifuges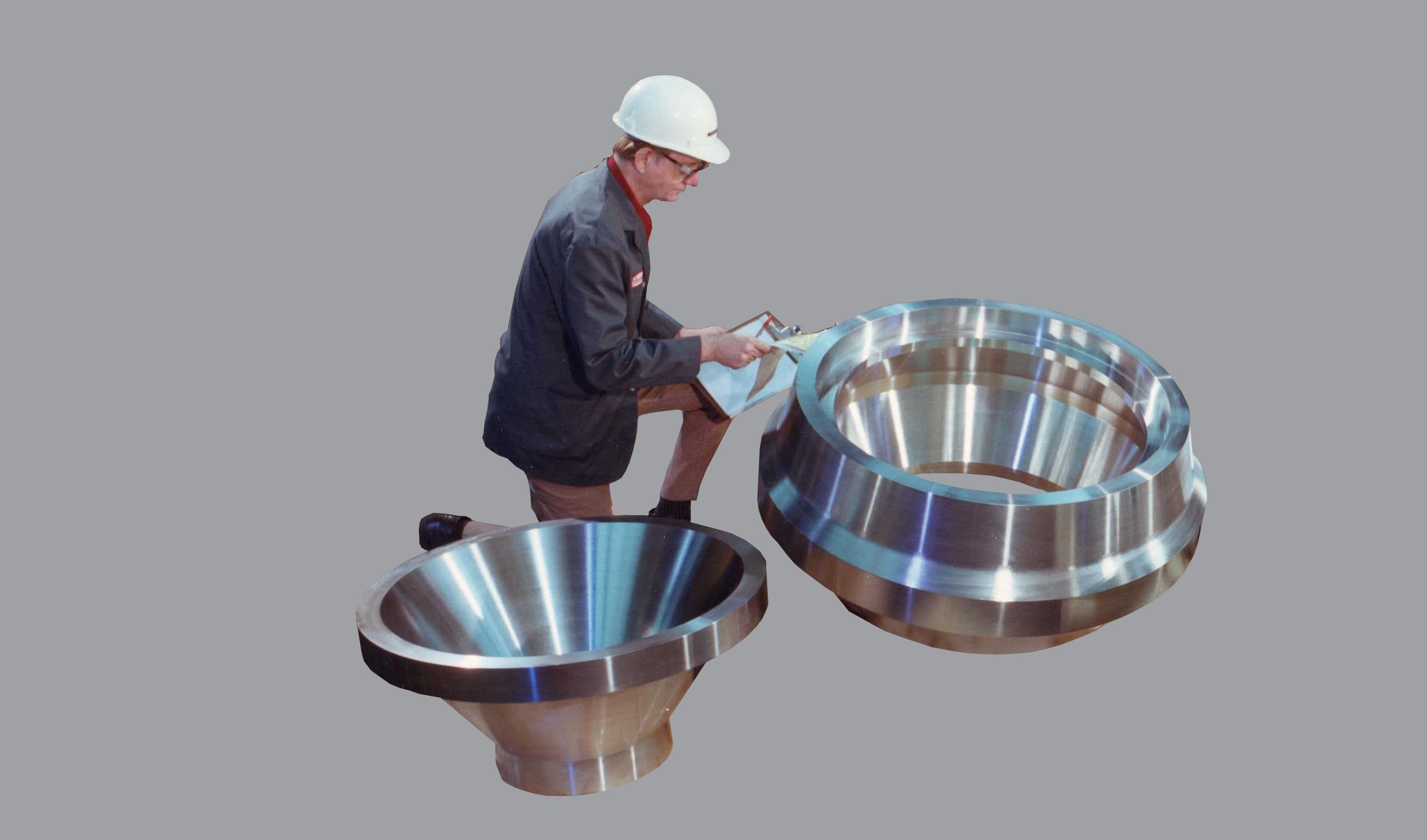 High speed rotating equipment like centrifuges relies on bowls that are balanced and consistent in shape and density. Those are qualities that describe centrifugal castings and make them a natural selection for this application. Centrifugal castings keep their inherent round shape and their homogeneous grain structure produces a consistent finish-machined product.
Vacuum Centrifugal Casting for Reliable Parts Using Super Alloys
The vacuum casting process is typically used for super alloys when control of exposure to oxygen is critical. MetalTek can centrifugally cast parts in vacuum in sizes up to 42″ (1,070 mm) and pour weights up to 800 lbs. (364 kg). In addition to the advantages of casting in vacuum, the inherent high metal integrity delivered by centrifugal casting is realized, including directional solidification, absence of porosity, and O.D. shaping. Vacuum centrifugal casting provides products with very high reliability, often used in aerospace and military applications.
Centrifugal Cast Ball Valves – An Alternative to Sand Casting or Forging
A ball valve manufacturer came to MetalTek because they were facing a common dilemma. Needing a ball in a specialty alloy offered only unattractive alternatives. Because of the material, purchasing a mill run to produce a forged ball was cost prohibitive. Machining a spherical component from a cylinder is a difficult choice, and there are static casting challenges when producing a sphere because of heavy wall sections and varying wall thickness. Fortunately, MetalTek offered the most logical of solutions. With ball tooling already available for sizes ranging from 2" through 38", there was no tooling lead time or cost. Being a master melter, MetalTek was able to produce any quantity the customer needed in the alloy they specified.
Main Cylinder Barrels Using Quick, Reliable Centrifugals
Few suppliers in the world can produce a single piece casting of the size and integrity demanded high-pressure cylinder shells. Forgings often used in this application are expensive and very long lead times make their use impractical or even impossible. Faced with that reality, a major press manufacturer came to MetalTek for help. Our unique capability to centrifugally cast very heavy wall cylinders makes the process a good choice. Being able to cast a single piece up to 135,000 lbs. / 61235kg and more than 35' (11m) in length means that multiple finished parts can be made from a single casting, adding to the cost and timing advantage of a centrifugal. Our new press customer discovered a reliable solution for a critical long lead-time component.
Centrifugally Cast Petrochemical Tee – Better Choice Than Sand Casting
At first glance, centrifugal castings may not be the obvious choice for outlet manifold tees. While some designs do not specify a preference for centrifugal over static cast tees, its superior metallurgical structure and weldability deliver long term performance and cost benefits. Reformer engineering experts report lower repair rates for centrifugally cast tees and better weldability; there are solid technical reasons for that. Lower inclusion rates for centrifugals result from a manufacturing process that forces impurities to the bore which are then removed. Centrifugal castings in a permanent mold typically have lower carbon and nitrogen levels than sand castings because there is no mold binder system, avoiding surface C and N conditions that lead to weld cracking. A finer centrifugal grain structure produces a more weldable part less susceptible to porosity and leaking. Don't be misled by the t-shape. Technically, centrifugal is the best choice.
The versatility of centrifugal casting helps turn metals problems like these into successes. To learn more about the centrifugal casting process or determine if it is a fit for your application, please Contact Us.
Download Our Where Used Guide
Centrifugal Casting Reduced Machine And Casting Scrap The valve cage regulates and helps control the flow of fluid...
As 3D metal printing becomes more commercially viable, it is tempting to assume that it represents a direct...
From large projects to small production runs, selecting the appropriate metal casting process to achieve the desired design...