Blog
MetalTek International's Safety Culture
MetalTek's top priority is safety. Our safety culture is based on the ideas that safety is everyone's responsibility and that all safety incidents are preventable. A recent safety milestone at MetalTek's Carondelet Division is the latest example of MetalTek's safety culture in action.
Carondelet Passes 2.5 Million Hours Worked Without a Lost Time Safety Incident
The latest safety milestone achieved by MetalTek is 2.5 million hours worked since the last lost time safety incident at Carondelet, located just south of St. Louis. A lost time safety incident causes an employee to be unable to perform his or her job for at least one day. Carondelet's last lost time safety incident was more than seven years ago.
For any business, such a milestone is admirable. For a sand-casting facility that routinely pours liquid metal at over 2,500 degrees Fahrenheit for customers in the world's most demanding industries, this is a remarkable achievement. But not a surprising one. Such safety milestones are not rare at Carondelet. In fact, Carondelet has gone almost 300 days without any safety incidents at all.
This strong safety record extends to other MetalTek divisions. For example:
Wisconsin Centrifugal passed two million working hours (over two years) without a lost time incident in June 2017.
Wisconsin Investcast also once went over two years without a lost time safety incident.
The Petrochemical Machine Shop at Wisconsin Centrifugal has not had a recordable safety incident in over six years.
You get the idea.
What makes safety milestones such as these possible?
MetalTek's strong safety culture, which extends to all five of its divisions:
Carondelet (Pevely, MO)
Sandusky International (Sandusky, OH)
Sandusky Limited (Glenrothes, Scotland)
Wisconsin Centrifugal (Waukesha, WI)
Wisconsin Investcast (Watertown, WI)
MetalTek's Safety Culture
MetalTek's safety culture is built on the company's core value of Choose To Be Safe and the core belief that all safety incidents are preventable. All MetalTek employees – from the CEO to trainees – follow specific behaviors that contribute to a safe workplace:
Arrive on time, in good physical and mental condition
Take responsibility for your safety and for the safety of those around you
Follow all safety procedures
If it's not safe, STOP and SPEAK UP
At MetalTek these values, beliefs, and behaviors do not exist simply on a poster. The company expects employees to remain continuously vigilant to prevent all safety incidents. Various processes integrate safety into daily life at MetalTek to make this job easier. For example:
New employees complete rigorous safety training, supplemented by continuous safety training during their time with the company.
Each employee meeting begins with a discussion of a safety topic or best safety practice.
The entire company is committed to a detailed safety incident review process to eliminate unsafe conditions.
Employees can publicly recognize their coworkers for living MetalTek's safety culture by using the company's employee recognition system.
In March 2021 MetalTek introduced new values, beliefs, and behaviors as part of its workplace culture. To commemorate this occasion each employee received a thank you kit with work gloves and safety glasses. The company intended this gift to be taken home to reinforce that safety is a choice and that this choice does not stop at work.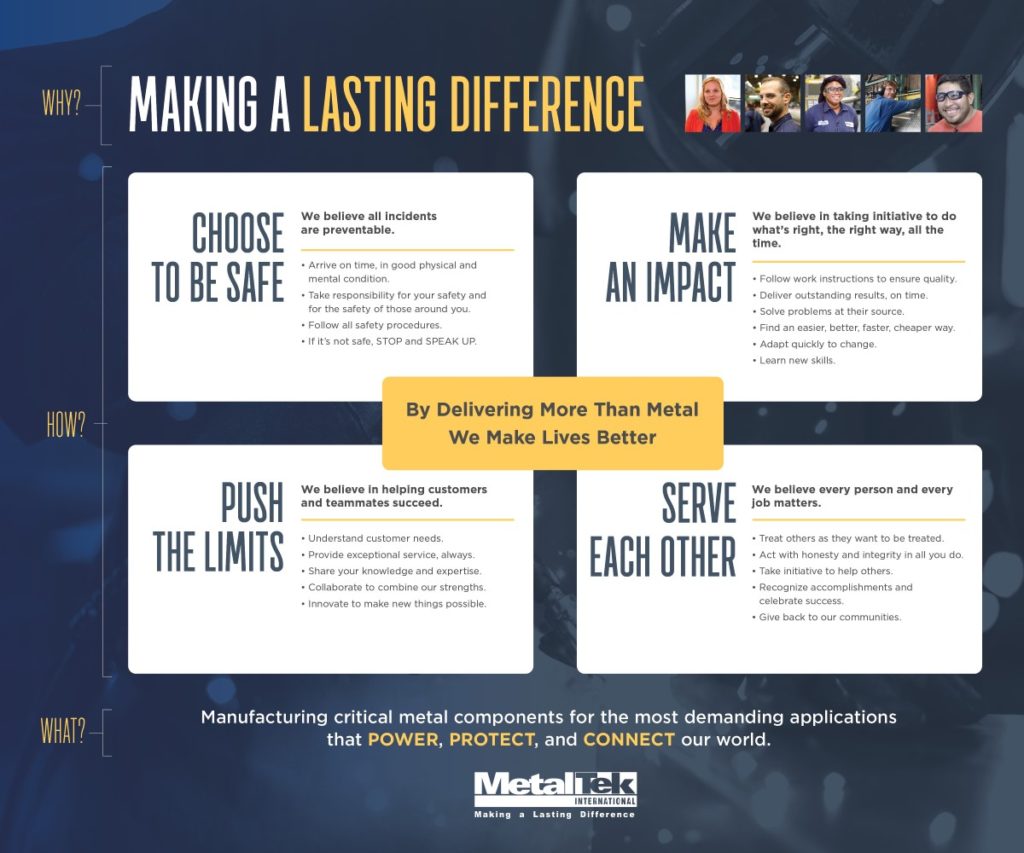 Implications of MetalTek's Safety Culture
Since MetalTek adopted this safety culture about 15 years ago, its Occupational Safety and Health Administration (OSHA) incident rates have fallen dramatically. MetalTek's recordable safety incident rate is significantly below the foundry industry and more in line with retail. You are statistically just as safe working at MetalTek as you are in an auto parts store, and statistically more safe working at MetalTek than you are at a supermarket.
By embracing a safety culture MetalTek has improved the lives of our employees and deepened our relationships with our customers. We truly believe that our commitment to safety extends to the critical metal components we produce and ensures the safety of others around the world. This is just another example how MetalTek is committed to Making a Lasting Difference® every day.
Download Our Where Used Guide
MetalTek exists for the expressed purpose of Making A Lasting Difference. This purpose is supported by four core...
When a business is true to its values, it shows. Being a company with true purpose takes something...