Blog
Why MetalTek Is The Right Choice
When a business is true to its values, it shows. Being a company with true purpose takes something beyond just a thoughtful mission statement or meaningful corporate giving. It takes a true commitment to Making A Lasting Difference.
MetalTek's Culture
Employees at MetalTek start every one of our internal meetings with a 'safety moment'. Before diving into business or logistics for the day, employees pause to reflect on and discuss a safety issue that can affect their daily lives – driving with caution on slippery roads, being more aware of surroundings – as a punctuated reminder to live MetalTek's values.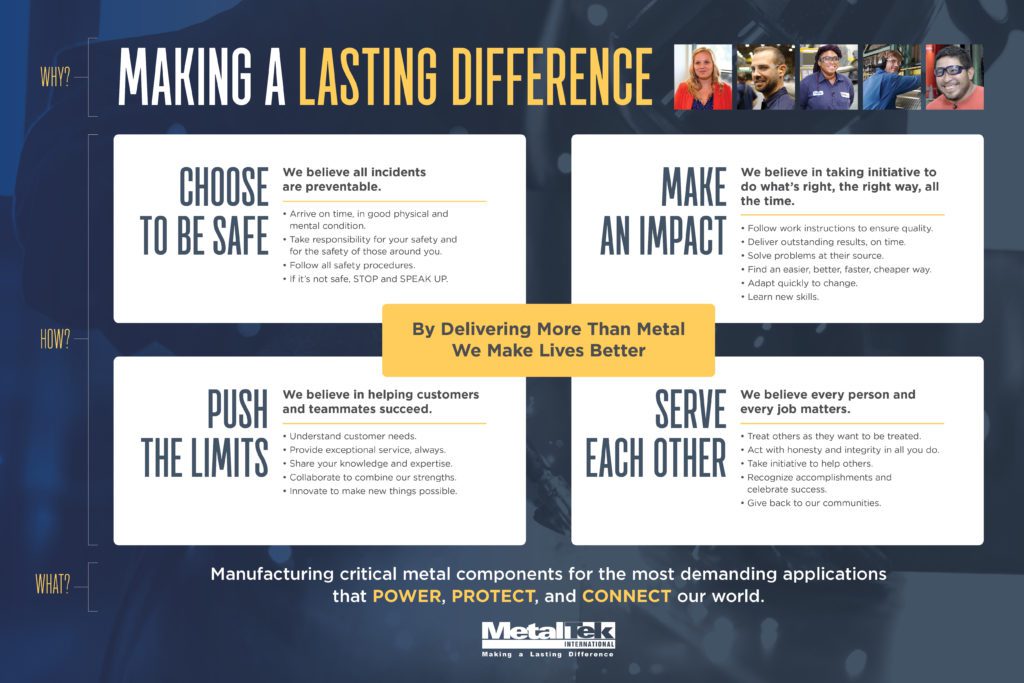 MetalTek's business is metal casting manufacturing. But our culture is safety, our process is quality, and our goal is innovation. These principles touch every aspect of the company, and for good reason. MetalTek makes mission critical parts – parts that simply cannot fail – for demanding high-heat, high-wear, and high-corrosion applications that ultimately help to power, protect, and connect people and businesses across the globe.
Integrated Alloy and Process Expertise
MetalTek combines metallurgy, process engineering, and other technical process expertise to provide these parts for customers operating from the depths of the ocean to the surface of Mars. We provide parts for food processing, adhering to stringent USDA requirements and helping feed the world. We support refined petrochemical engineering and high-heat furnace applications, reforming hydrogen or producing ethylene in an efficient and methodical way to avoid unplanned plant shutdowns. There are MetalTek parts in operation beneath offshore oil rigs used to prevent devastating oil spills far out at sea.
It is necessary for MetalTek to lean into our role as a leader in both safety and quality because we are making components for submarines, rockets, and military missile defense systems where people's lives are at stake. Our focus on these people, our customers, and their mission means that quality and safety are inexplicably linked.
From Product Design to Delivery
MetalTek does our engineering on site, with capabilities for machining, fabrication, heat treatment, and non-destructive testing. Engineering in house grants our customers a combination of cost savings and speed, while providing greater control of the processes all under one roof. This often minimizes the need to wait for a third party.
Unmatched Diverse Metal Casting Processes
We bring multiple metal casting processes into play to ensure we have found the optimal process for our customer's unique application. We are an industry pioneer in vertical and horizontal centrifugal casting, investment casting for consistently tight tolerances, and sand casting to accommodate evolving design changes. MetalTek aligns the right processes with the right applications. For example, our investment casting facility converts multiple parts into one-piece castings to increase the quality and durability of the part. This creates improved surface finish, and saves our customers in total acquisition cost.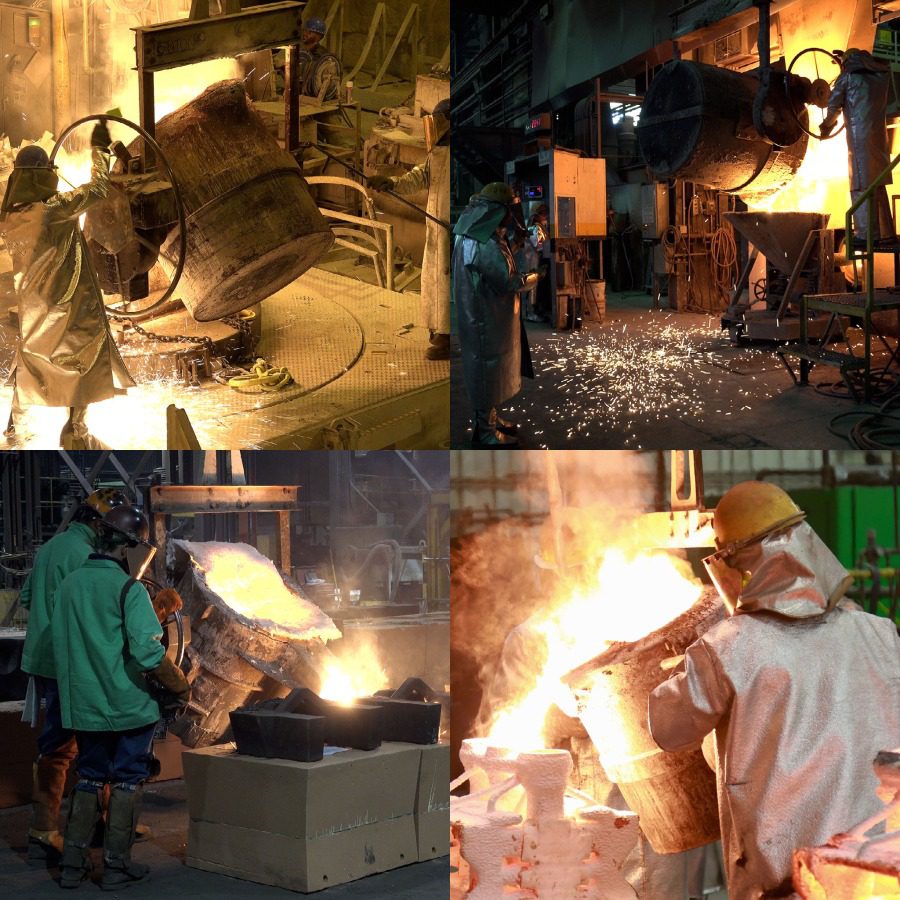 Technical Expertise for What Customers Need
Regardless of what is being manufactured, it all starts with listening to and understanding our customer's needs and challenges. MetalTek's commitment to safety and quality begins at the initial sales call. When a customer needs a solution, our engineers must first understand its specifications from the inside out. In what environment will the application be used? How does it work in conjunction with other parts? What is the end application? MetalTek excels at alloy choice and material properties – the specifications that the parts must comply with to confirm their chemical composition requirements. We share these insights with customers through TekSessions.
We are proud to have over 20 degreed metallurgists on staff who stay educated on the latest findings on alloys and are active in industry groups like the National Association of Corrosion Engineers and the Steel Founders Society of America. We ensure our staff can pursue continuing education, provide improvement opportunities for all employees, and bolster our capacity to automate to provide consistent quality. MetalTek's leadership makes certain to keep watch on emerging markets so share is held in the latest and greatest changes and techniques. Our customers benefit from innovation.

Multiple divisions of MetalTek are independently audited and certified to AS9100, ASME, NADCAP and other independent standards. This means that our equipment, people, and process are working at the highest possible standards in the industry. We have refined our operating procedures to guarantee the timing, delivery, and quality of a project. We put that same level of care into every proposal. MetalTek's rapid turnaround program within its petrochemical group can provide customers with expedited deliveries that minimize costly downtime.
Making A Lasting Difference
MetalTek delivers more than metal. We deliver experiences. At our core we choose to be safe and serve others – doing what's right, the right way, all the time. Whether it is through consistent manufacturing processes or disciplined workflow, MetalTek pushes the limits of what is possible in metal casting, providing challenges and learning opportunities for our employees so they always feel like they are a part of Making A Lasting Difference. In turn our customers can see how we give back. It reflects in our quality, in our achievements, and our innovation. Choose MetalTek because it isn't about what we do, but about why and how we do it.
About the Author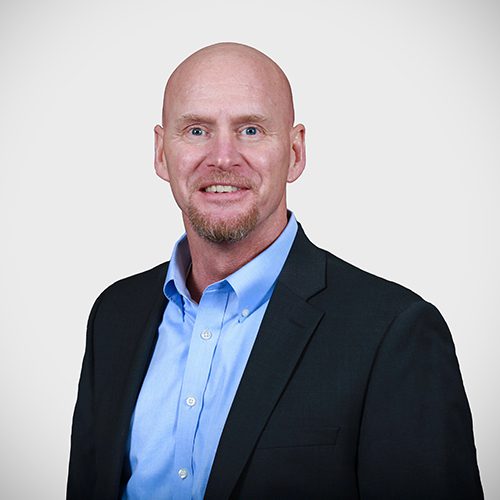 Rod Anderson is Vice President of Sales and Marketing at MetalTek International. He joined MetalTek in 2007 and before his current role served as the company's National Sales Manager. Rod holds a Bachelor of Science Degree in Marketing and Finance from the University of Wisconsin-Madison.
Download Our Where Used Guide
Stainless steel is one of the world's leading metals in various applications. It provides exceptional corrosion resistance, durability,...
Aluminum does not rust but it can corrode. What is the difference between rust and corrosion? Rust and...
One crucial property to understand in metalworking is thermal conductivity. The simplest definition of thermal conductivity is a...