Blog
What You May Not Know About MetalTek
MetalTek exists for the expressed purpose of Making A Lasting Difference. This purpose is supported by four core values and corresponding beliefs. The formal articulation of these values, beliefs, and behaviors is relatively new but the culture they represent goes back decades. MetalTek can trace its history to the opening of Carondelet Foundry in St. Louis, MO in 1890. In fact, each MetalTek division has its own unique history that goes back far before the founding of MetalTek International in 1999.
During my first few months as MetalTek's Chief People Officer, I have learned that while MetalTek's five divisions formerly existed as independent companies, they all had a strong focus on people and customer service. This focus made them as strong a fit together as their diverse metal casting capabilities. Today, this focus on people and customer service exists in MetalTek's four core values. A review of these four values is a good way to understand what makes MetalTek special for its employees and customers.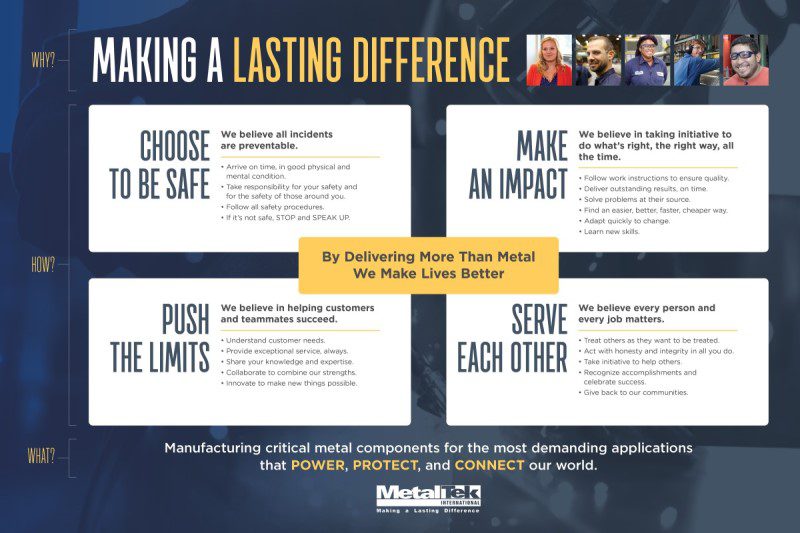 MetalTek's Core Values
Choose To Be Safe
MetalTek's safety culture is built on the belief that all safety incidents are preventable. Employees are encouraged to STOP and SPEAK UP if they believe working conditions are potentially unsafe. This results in an OSHA incident rate that is significantly below the foundry industry standard. Recent safety milestones such as one year without a recordable safety incident at Sandusky International and 2.5 million hours without a lost time incident at Carondelet are testaments to this safety culture in action.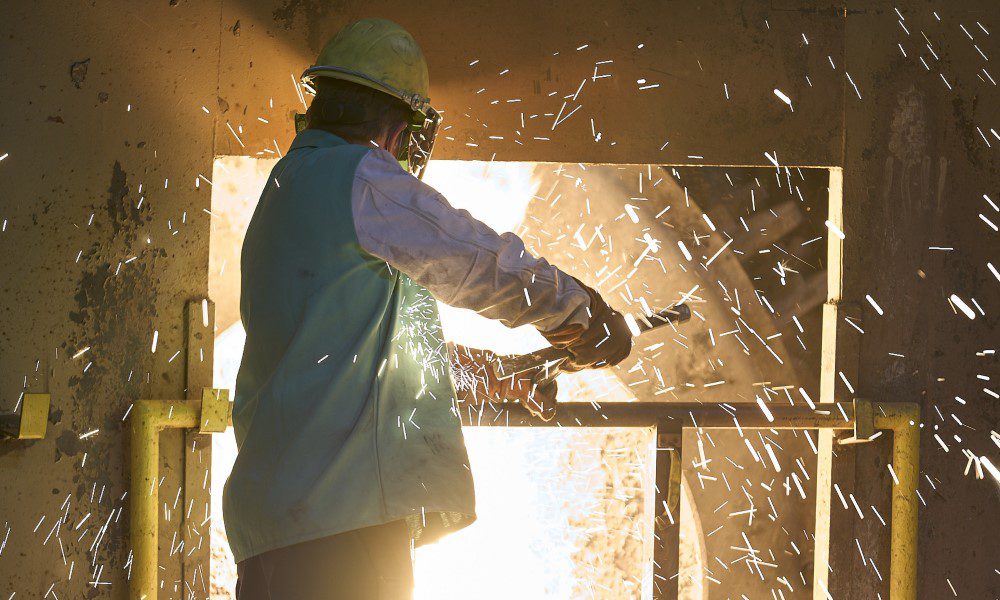 When the scale of COVID-19 became apparent in 2020, MetalTek CEO E.J. Kubick issued a companywide communication stating that he had two priorities: to ensure that every employee was safe, and to ensure that every employee kept their job. Hard stop. No talk of protecting profits – just doing what is right to protect the health of employees and their families. At MetalTek, safety always comes first.
Push The Limits
MetalTek offers unmatched diverse capabilities in centrifugal casting, investment casting, and sand casting to produce critical metal components that power, protect, and connect the world. We like to say that the parts we manufacture are found "from the depths of the ocean to the surface of Mars." This is not an empty phrase: it is true. MetalTek produces parts used in blowout preventers for offshore oil & gas exploration, and bushings made at Wisconsin Centrifugal are on a Mars rover.
No project is too ambitious in scope. Carondelet was honored to produce the 184 benches at the Pentagon 9/11 Memorial. Every 60 seconds, a commercial flight takes off somewhere in the world with a MetalTek compressor case protecting its gas turbine engine. MetalTek is trusted by our customers in Defense, Petrochemical, Aerospace, Mining, and other industries to understand the unique demands of each market we serve. The parts we manufacture ensure the safety of millions of people every day. They simply cannot fail, under any circumstances.
Serve Each Other
Service is a MetalTek value that applies not only to customers but to employees and their communities. From day one of working at MetalTek, the message is the same to every employee – act with honesty and integrity in all you do. Employees are encouraged to recognize their peers for living MetalTek's values – both in a formal recognition system and during a "one minute reminder" held at the beginning of every meeting. We always focus on recognizing individual accomplishments and celebrating team successes. We believe that every person and every job matters.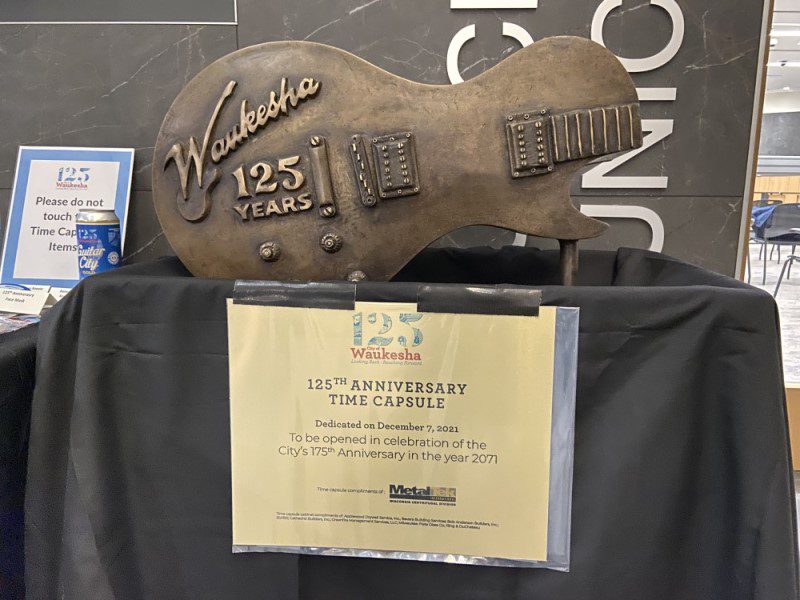 Each MetalTek division focuses on investing in its local community. For example, Sandusky International in Sandusky, OH partners with Leadership Erie County (LEADS) to prepare individuals for community service and engagement. Sandusky Limited in Glenrothes, Scotland provides donations to the local foodbank and sponsors various events in the community. Wisconsin Investcast in Watertown, WI supports local schools, law enforcement, food pantries, the women's shelter, and the United Way of Jefferson & Northern Walworth Counties. Wisconsin Centrifugal in Waukesha, WI has raised millions of dollars for United Way of Greater Milwaukee & Waukesha County since 1997. The division also manufactured a time capsule in the shape of a guitar to commemorate the city's recent 125th anniversary while honoring one of its most famous natives, Les Paul. MetalTek takes pride in helping our local communities flourish and grow.
Make An Impact
Central to this value is taking initiative to do what is right, the right way, all the time. A natural drive and curiosity are essential to success at MetalTek. For example, one MetalTek Machinist was formerly employed by a furniture store. He had no direct experience in Machining but used YouTube to teach himself to read blueprints prior to his interview. Taking the initiative to teach himself an essential technical skill showed the personal drive and aptitude to succeed.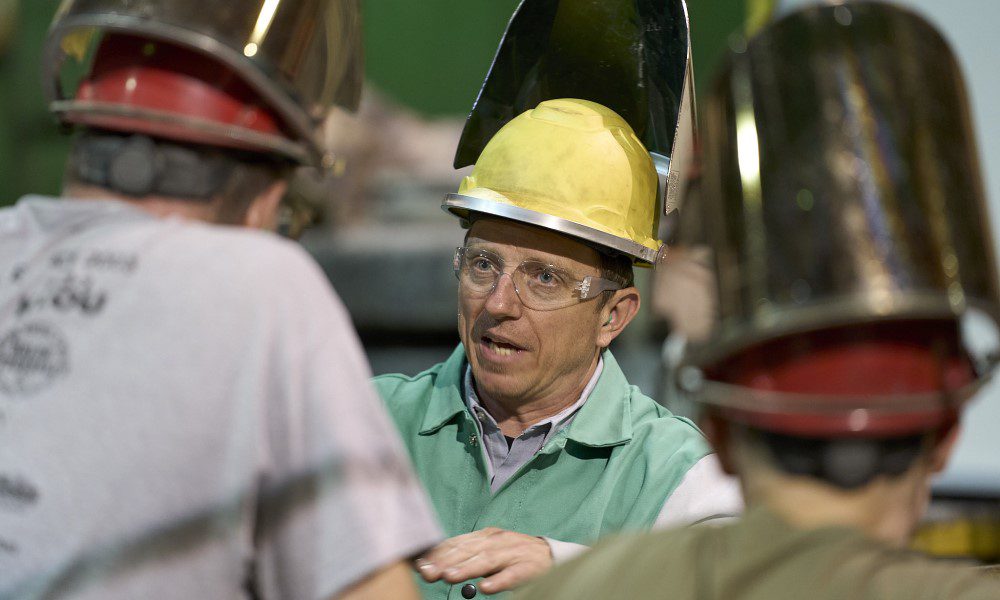 Continued education for all MetalTek employees is also a large point of emphasis. We offer training so that new employees are positioned to succeed. If an employee wants to continue their formal education outside of work, we offer tuition assistance to invest in their future. We look for employees with initiative and drive and provide them with the technical skills that they need to succeed at MetalTek and throughout their entire careers.
MetalTek's Future
MetalTek will grow with intent and purpose, with the right people, with the right processes, and in the right industries. My focus as Chief People Officer is ensuring we have the foundation upon which our team members can build lasting careers. Our goal is to provide a rewarding work environment that offers professional and personal growth. We also want to improve the WAY we work, from investing in automation and technology to continually improving our processes and developing new capabilities.
MetalTek is more than foundries, we are a company made up of people dedicated to Making A Lasting Difference every day. We are never satisfied with the status quo and are always looking for ways to improve. Our culture and values are a process that drive us to want to be an even better company for our employees, customers, and the communities we serve.
Does MetalTek sound like the kind of company for you? Check out our career opportunities.
About the Author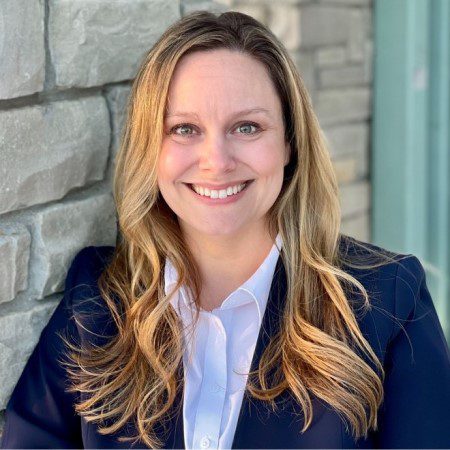 Stephanie Langer is Chief People Officer at MetalTek. She joined MetalTek in January 2022 and has more than 20 years of human resources experience in industries such as manufacturing, education, and retail. Stephanie holds a B.S. in business administration from California State University, Stanislaus and a J.D. from Humphreys College Laurence Drivon School of Law.
Download Our Where Used Guide
MetakTek is thrilled to announce that our Wisconsin Centrifugal Division will hold an on-site hiring event on Thursday,...
I am excited to announce that Stephanie Langer joined the MetalTek team on Wednesday, January 26 as Chief...
When a business is true to its values, it shows. Being a company with true purpose takes something...