Blog
Sandusky International: Ready To Serve Your Pulp & Paper Application Needs
The Sandusky International division of MetalTek have been the worldwide leader in manufacturing paper roll shells since pioneering centrifugal casting more than a century ago.

For those familiar with the Sandusky name but not MetalTek, we joined the MetalTek International family of casting foundries in 2010. However, we are still the same company committed to being a leader in the pulp and paper industry by providing excellent customer service and manufacturing quality products.

Customers designing, manufacturing, or operating papermaking machinery rely on Sandusky for the world's leading roll shells. Utilizing a deep understanding of the demanding environments in which our pulp and paper customers operate, Sandusky provides products and solutions to extend roll life and reduce operating and maintenance costs for paper mills around the world.
A Century Of Experience
Our unrivaled experience has allowed us to advance papermaking technology for over a century. These achievements have allowed us to make quality roll shells in more types, sizes, alloys, and finishes than anyone else in the business. Here are just a few milestones:
Introduced the first practical suction couch roll for cylinder paper machines.
Patented the first suction couch and press rolls for Fourdrinier paper machines.
Pioneered the first commercially produced centrifugal castings.
Sold the first centrifugally cast suction roll shell.
Manufactured the first centrifugally cast stainless steel suction roll shell.
Introduced the first centrifugally cast duplex stainless steel for suction roll shells.
Introduced first Argon Oxygen Decarburization (AOD) refined centrifugally cast stainless steel suction roll shell.
The Sandusky Division of MetalTek has more suction roll shell manufacturing and metallurgical experience than any other company in the world. This provides you with flexibility and single-source convenience for centrifugally cast roll shells – ferrous and nonferrous, plain and drilled – for a wide variety of applications spanning the entire paper machine-from the wet end to the winder.
Unmatched Manufacturing Capabilities
We understand that paper machines are unique and roll shells must be produced to exact specifications. Meeting specifications with size capacity, expert alloy selection, and extensive machining and drilling capabilities ensures you get exactly what you need when you need it.
Melt capacity of up to 135,000 pounds (61,350 kg).
Outside diameters from 12″ to 60″ (305 to 1,525 mm).
Wall thickness to 6″ (152 mm) for undrilled shells, to 4″ (102 mm) for drilled shells.
Unwelded single-piece lengths to 432″ (10.9 m) – a capability not available anywhere else in the world.
Machining up to 600″ (15 m) in length and 200,000 lbs. (90,718 kg).
Argon oxygen decarburization (AOD) processing.
Solidification modeling.
Twist drilling and smooth drilled holes (SDH).
Gun drilling available through outside machining partners.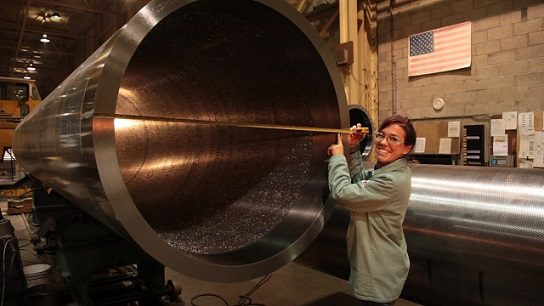 Specialized Materials For Your Pulp And Paper Application
Suction roll shells made from our patented Alloy 86® duplex stainless steel, DSA06, and CA-15 are recognized as the industry standard for long life and reliability. Have a different alloy in mind? No problem, as a master-melt foundry we routinely pour dozens of alloys and can cater alloy chemistry to meet your specific needs. Contact us today to discuss your application and needs.
Typical Pulp & Paper Products
Sandusky has over 100 years of experience in the paper making industry and the following are just a few of the components we have produced.
Dryer felt shells
Lump breaker shells
Polycast roll shells
Press felt shells
Reel spools
Suction roll shells
Winder roll shells
Wire turning shells
Accreditations And Certifications
We hold an extensive range of certifications to help our customers meet the strictest quality and performance standards and to ensure we deliver a quality product.
ISO 9001:2015 (QMS)
ASTM, ASME, and military specifications
Lloyd's Register
ABS / American Bureau of Shipping
DNV / GL Det Norske Veritas / Germanischer Lloyd
MOD Defence Equipment & Support
BV / Bureau Veritas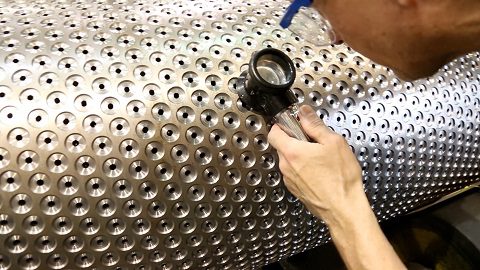 Ready To Serve You In Your Pulp & Paper Needs
Whether you worked with Sandusky in the past or you are considering a change in suppliers, we welcome a conversation about your next project. Give us a call or submit an inquiry so we can determine if we are a good fit for you and your needs.
Download Our Where Used Guide
When considering the production of complex metal components, it is important to evaluate the costs associated with different...
Are you experiencing supply chain issues with your current metal manufacturing vendors? In today's marketplace, long lead times,...
Investment casting (also known as lost-wax casting) is a common manufacturing process used to create metal parts with...