Blog
The Case for Centrifugal Casting
Prices of materials such as copper and nickel continue to rise and pressure lead times. Thankfully, the centrifugal casting process is here to help buyers mitigate against this curve and protect their supply chains. For diameters of 14" (355 mm) or more it makes sense to use centrifugal castings from MetalTek instead of forgings, especially forged bar.
Here Are A Few Reasons Why You Should Consider Centrifugal Castings:
Centrifugal casting naturally creates a high-integrity part with a hollow section, so less material is required than forgings. This limits the upfront material cost.

Material machined away after centrifugal casting can be remelted and reused for another of the same part. This further limits material cost.

Melting and centrifugally casting products onsite limits lead times compared to forgings, since foundries such as MetalTek are not waiting for mills to supply metal.

Argon Oxygen Decarburization (AOD) at MetalTek allows us to sustainably protect against rising material costs by changing the alloy properties of reused material.

Centrifugal casting does not require the customer to make multiple-ton purchases to cover special melts.
Let us consider two examples where MetalTek used centrifugal casting to provide a specific solution to a customer compared to forgings.
Examples of How Centrifugal Casting Helped A Customer
Cost-Effective Choice for Ball Valves Compared to Forgings
A manufacturer of ball valves approached MetalTek because they needed their part produced in a specific alloy. This made forging an unattractive option. Purchasing a mill run to produce a forged ball was cost prohibitive because of the specific material. Fortunately, MetalTek already had ball tooling available for sizes ranging from 2" (41 mm) to 38" (965 mm). This meant that there was no tooling lead time or cost. MetalTek produced the exact quantity the customer needed (eight) in the specific alloy requested. MetalTek provided proof-machined bores with an as-cast outer diameter (O.D.) that the customer finish machined in house.
Forgings for Food Processing Industry Failed Prematurely
Production of ground meat is one of the most demanding applications in the food processing industry. Meat is forced through holes in a cylinder by a rotating Archimedes screw. There is significant pressure on the cylinder wall and space between the holes is thin. Forgings for this application fail prematurely because cracks occur and propagate due to forgings' unidirectional grain structure. The grain structure of centrifugal castings is multidirectional, resulting in crack resistance. Changing to MetalTek centrifugal castings for this application resulted in both lower purchase cost and increased product life.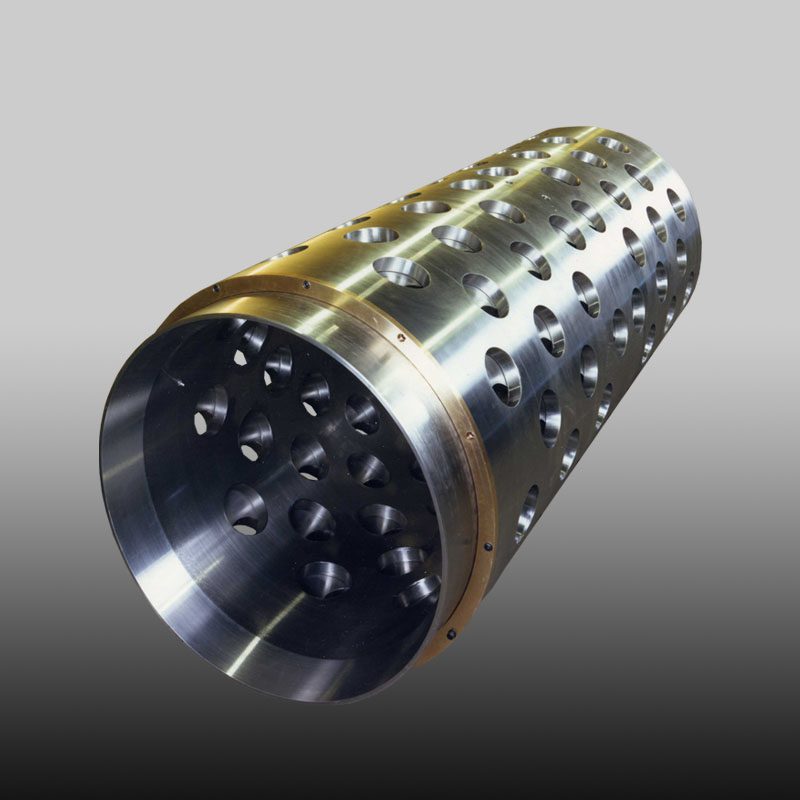 These are just two examples. MetalTek's expertise in hundreds of alloy grades, the largest centrifugal casting die inventory in the world, and expansive machining capability means we are ready to help you realize the advantages of centrifugal castings compared to forgings. Please contact us for more information about how our our Sandusky International, Sandusky Limited, or Wisconsin Centrifugal Divisions can help you with a project.
About the Author
Ian Jones is Sales Manager for Europe at MetalTek International. He joined MetalTek in 2015 and has more than 30 years of experience selling high-precision metal components to customers in demanding industries. Ian attended Sheffield Hallam University in Sheffield, U.K. where he was awarded a post graduate, Masters degree in Business & Finance.
---
Download Our Where Used Guide
Are you experiencing supply chain issues with your current metal manufacturing vendors? In today's marketplace, long lead times,...
Investment casting (also known as lost-wax casting) is a common manufacturing process used to create metal parts with...
Casting is a manufacturing process of pouring molten metal into a mold to create a desired shape. Once...